Zoals zo vaak tijdens het koken had ik gisteravond het raam van de keuken open staan. En zoals altijd ging Freya buiten op de vensterbank zitten. Ik was rustig in mijn spaghettisaus aan het roeren toen ik opeens glijdende nageltjes hoorde! Freya zou toch niet gevallen zijn? Ik keek uit het raam, maar zag niets beneden. Waarschijnlijk was ze dus gewoon naar binnen gerend en had ze zich op de vensterbank afgezet… Ik vertrouwde het toch niet helemaal en ging binnen even kijken of ik haar zag. Niks…  😕
Met bange vermoedens liep ik naar beneden om de voordeur open te doen en… daar zat ze voor de deur, met bloed op haar neus en helemaal daas. Ze liep gewoon zelf naar binnen toe, wel wat moeizaam, en begon de trap op te lopen. Dat ging erg langzaam, dus ik probeerde haar voorzichtig op te tillen. Ze protesteerde niet en dus droeg ik haar naar boven. Het leek er gelukkig op dat ze niets gebroken had. Wat nu? Ik moest eigenlijk naar mijn werk, maar ik kon Freya toch niet zo achterlaten? Ik besloot te wachten tot David thuiskwam en belde even dat ik wat later zou komen. Ongeveer twintig minuten later was David er ook en hij wilde haar wel even in de gaten houden.
Op zich leek het allemaal wel naar omstandigheden goed, ze was alleen erg suf en ze snoot steeds haar neus om die vervolgens af te likken… eerst was dat nog bloed, later niet meer, maar het snuiven hield niet op. Ik ging naar mijn werk, beetje laat, maar het was gelukkig niet erg. Toen ik 's avonds weer thuiskwam was er nog niet veel veranderd. Ze liep zelf, was ook zelf op de bank gesprongen, dus het leek wel redelijk goed te gaan. Maar goed, je weet het nooit met katten en het was toch een val van een meter of acht, het is soms niet meteen duidelijk of er iets beschadigd is.
Vannacht mocht ze voor het eerst in haar leven bij ons blijven slapen, lekker bij papa en mama 😉 , en ze hield zich heel rustig. Ook Fiona weet niet wat haar overkomt, telkens als Freya te dichtbij is begint ze te blazen, misschien ruikt ze vreemd of kan Fiona haar niet inschatten nu ze zo sloom is… Vanmorgen heb ik even met de dierenarts gebeld, haar leek het wel verstandig om toch even langs te komen, dus vanmiddag ging ik met Freya even ter controle. De dierenarts, een aardige, nog erg jonge vrouw, bekeek en beluisterde alles eens en keek ook even in haar bekje (wat mij nog niet gelukt was) en de conclusie was: gebroken gehemelte! Ze is waarschijnlijk ook echt vol op haar gezicht gevallen. Er zat een scheurtje in haar gehemelte van ongeveer 3 centimeter lang, maar het zou van zelf moeten genezen. Wel doet het haar waarschijnlijk veel pijn en daarom heeft ze Freya een pijnstiller gegeven. Die moet ik de volgende drie dagen ook aan haar geven en als er nog iets is dan moet ik bellen. Arm beessie….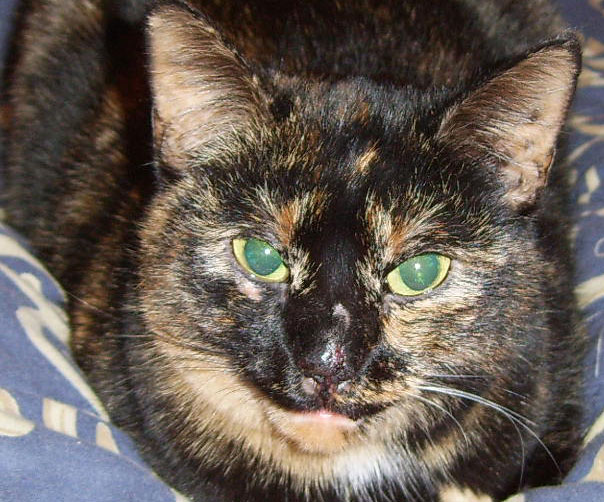 Zo ligt ze er steeds bij… lelijke schaafwonden op haar neus en net onder haar rechteroog… 🙁