Yesterday a good friend of mine, Snorrepot, organized a wool party at her place in beautiful Den Bosch! After the busy Christmas days, this was really a nice, quiet, and cozy party for a change (my favourite :)).
I know that Snorrepot loves handmade things, so I decided to make her an origami kusudama. I chose Immortelle by Ekaterina Lukasheva. This pattern is generously shared with the world for free at Kusudama.me. Most of the kusudama's I've made until now have been "closed", as in, the sonobes all touch each other completely, forming a closed sphere. Not this one, though!
Immortelle caught my eye because, like the Farandola Granda, which I folded recently, the sphere was open and you could see right through. This allows you to see the back side of the sonobes as well as the front, and the construction too. I didn't want to make another Farandola Granda, because I had already made it twice: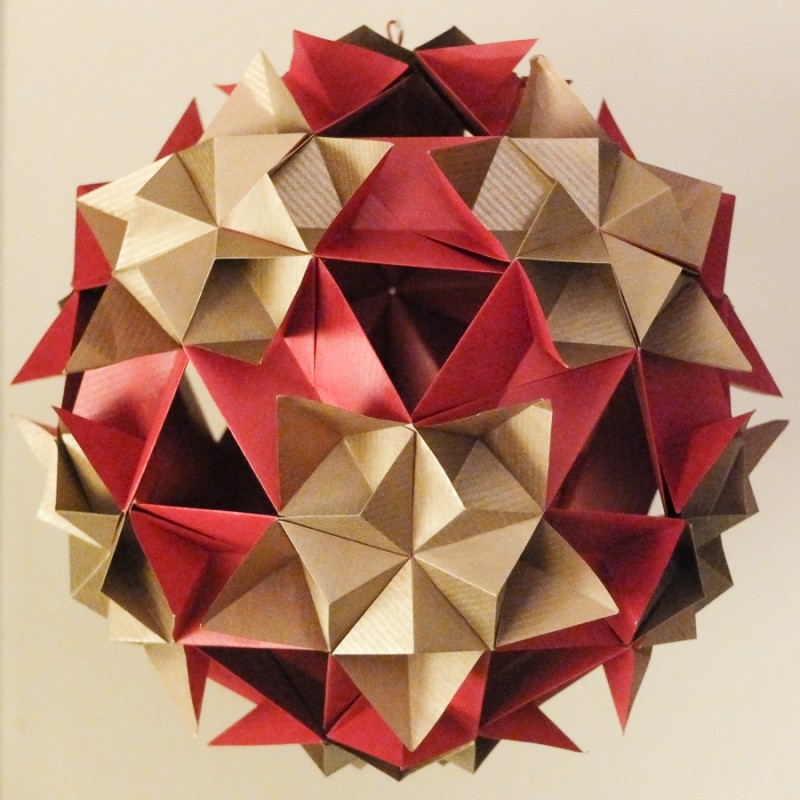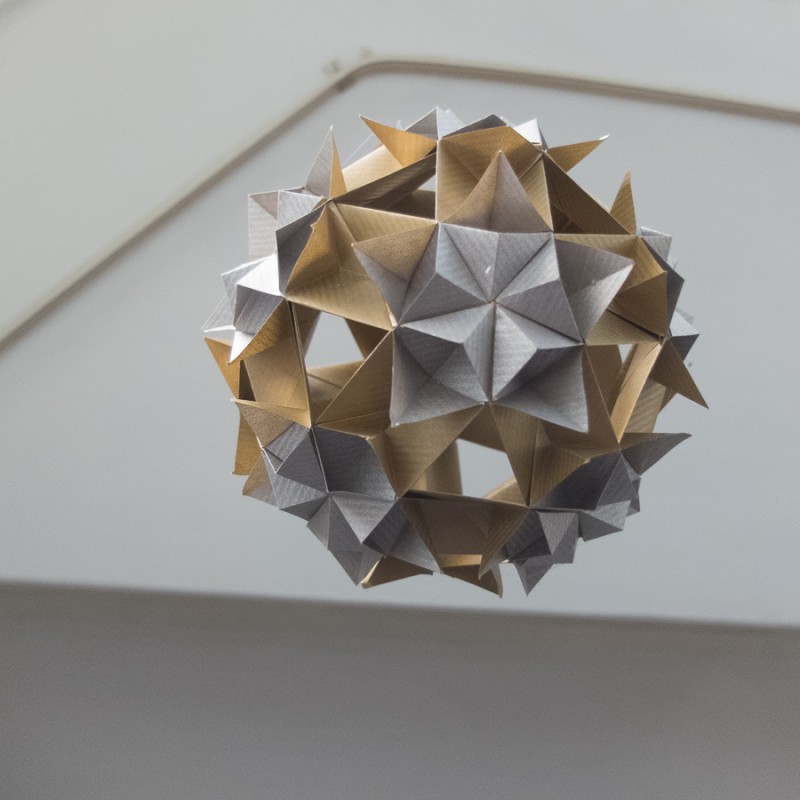 After folding 60 sonobes of this type, it was enough. And Immortelle looked quite interesting to make!
There was only one "problem": I did not have 30 sheets of two-sided paper in a colour that I found fitting for my friend. They were actually too intense: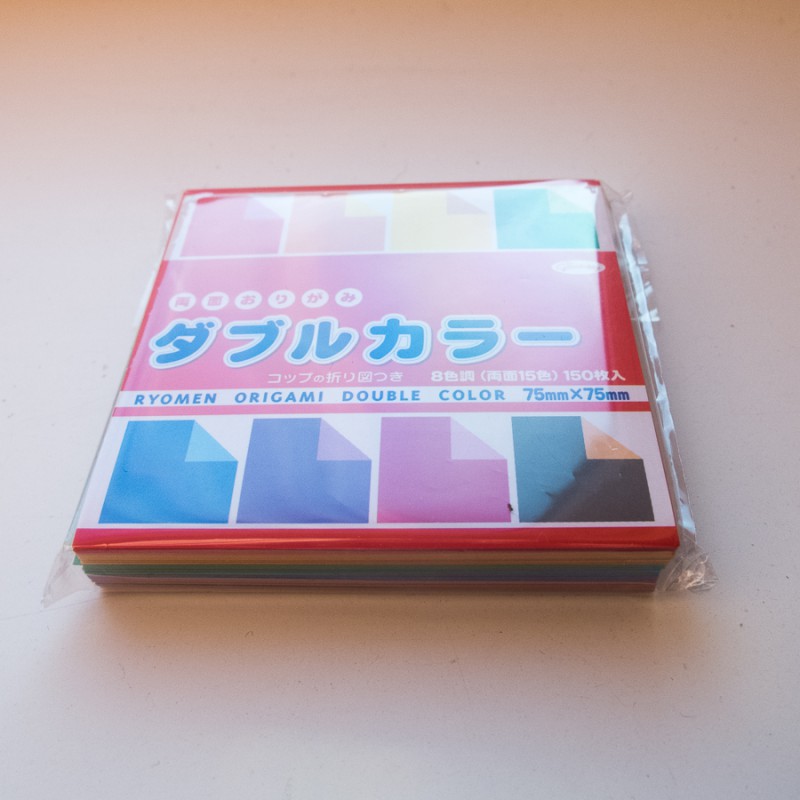 I wanted to give Snorrepot something light-coloured, silvery, wintery – fairy tale colours. The colours of crisp mornings, of nature, of light. I looked for them at the paper shop here in Den Haag (Damen, a wonderful shop, by the way!), but even there most of the paper sets were brightly coloured, usually only coloured on one side. And they did not have 30 similar sheets in one package, but it was usually a mixture of different patterns. What to do?
When I looked at the Immortelle pattern a bit closer, I noticed that the back side of the paper was not visible too much. Paper that was coloured on one side would probably be fine. So I checked my other paper.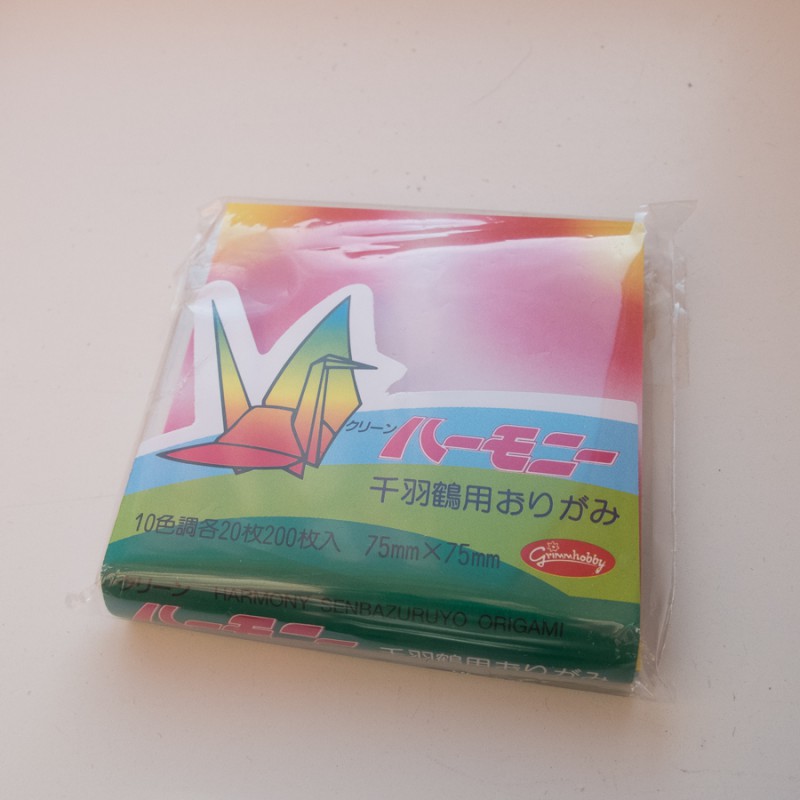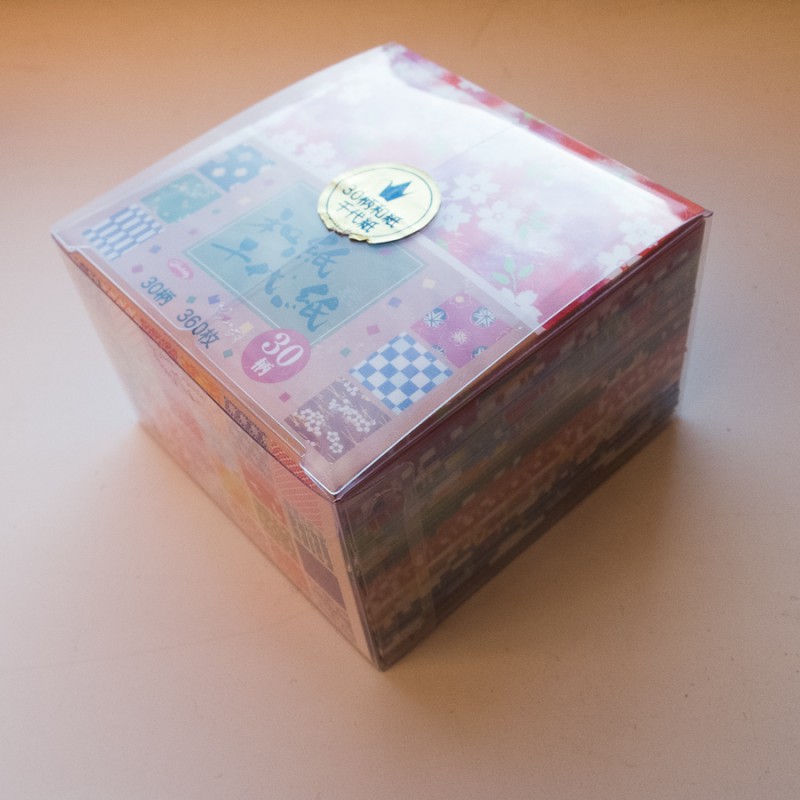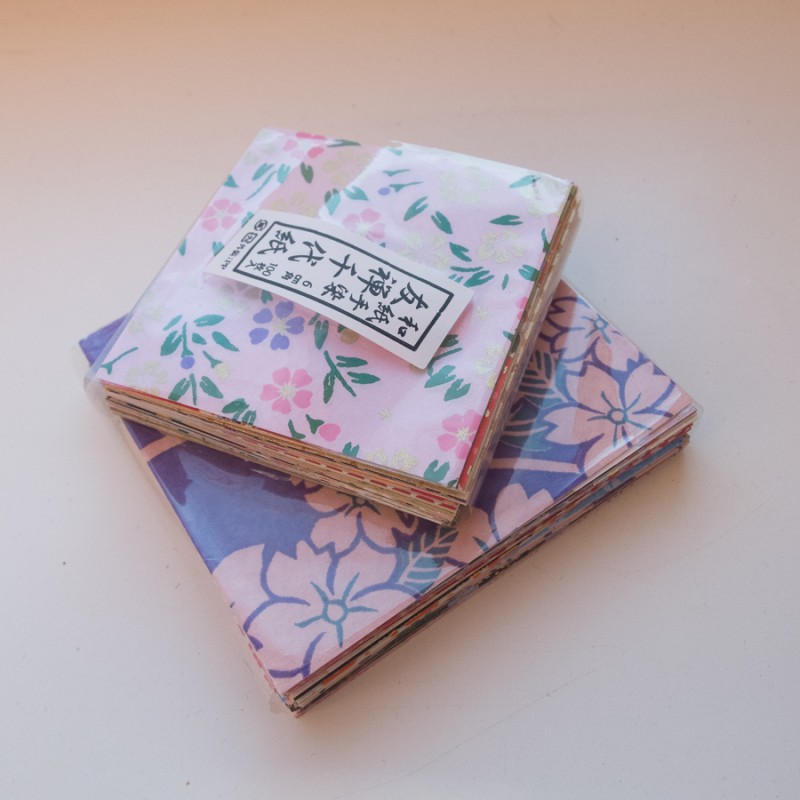 A while ago, I had bought some genuine Japanese paper. Two sets of 100 sheets of assorted paper, one 6×6 cm and the other 7.5×7.5cm. Almost every sheet is different. Some of them are coloured on two sides. This paper is fun, it has a fabric-like quality, so I decided to go for 30 different sheets of the larger paper in colours/patterns that fit the theme. In the end I did use a couple of duplicates because I didn't want to introduce red paper into the mix, but only a few. And some sheets were thinner than others, but would that really matter?
So, on Saturday night, I started folding the 30 units.
Then it was time to assemble the kusudama. I first tried doing that without glue. It did work, but was not very stable, and because I had to transport it the next day, I decided to use a bit of glue to hopefully hold it together better. The glue that I use does not dry very quickly (which is fortunate if you make a mistake), so putting it together took some time. I finished it the next morning.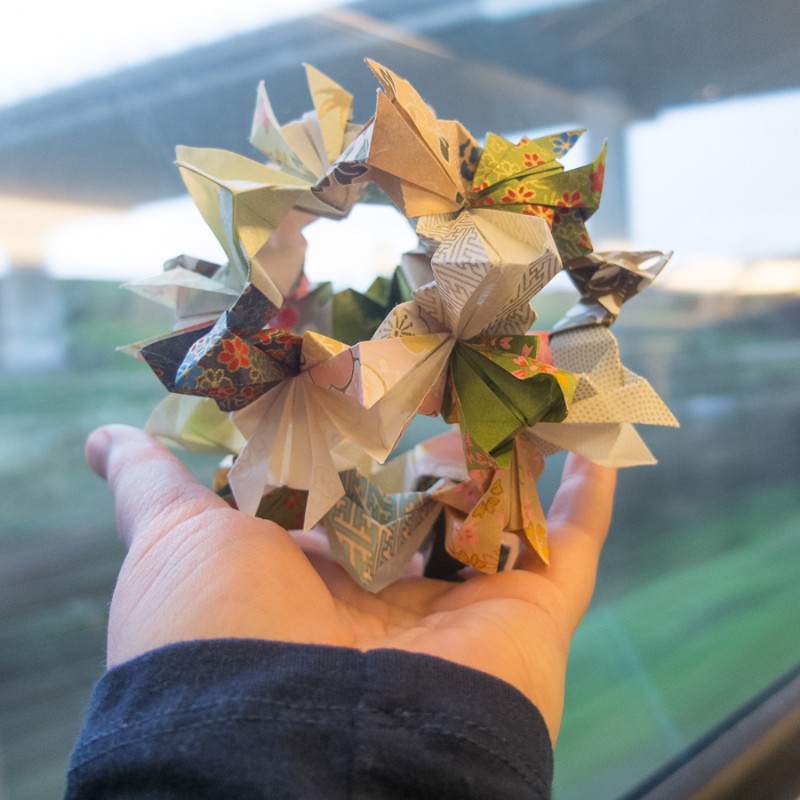 I liked it and at the same time of course the doubts were creeping up now. Did the different paper really work? Every paper on its own was pretty, but as a whole it looked more messy, not really a unified shape… But close up it was quite nice…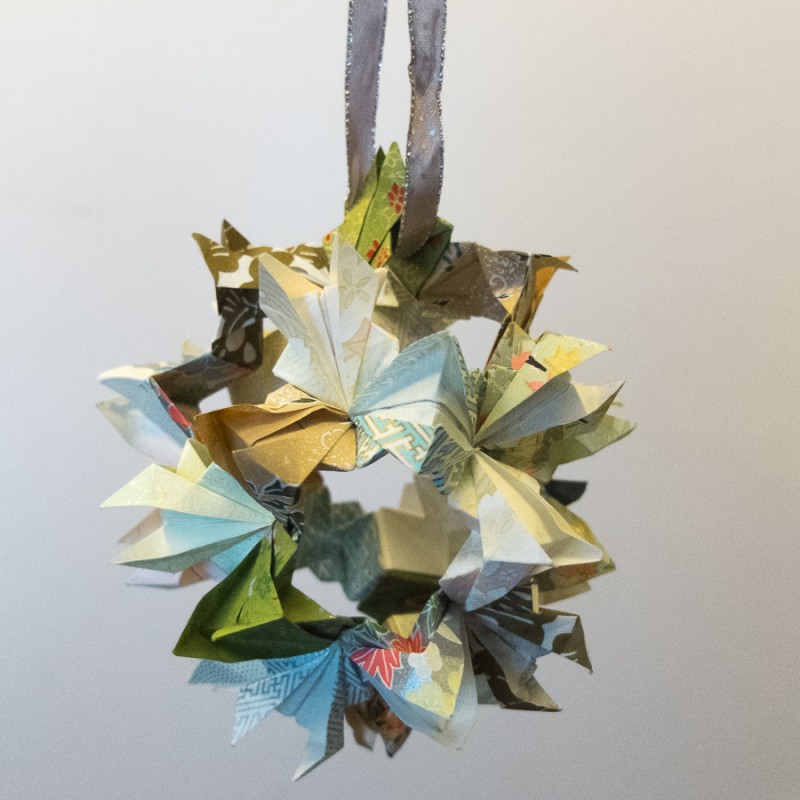 I arrived at the knitter's party around 1 o'clock. It was so nice to see my knitting friends! Some of them have been friends for years already, and for some of them it was the first time we met in real life. And the great thing is: it doesn't matter at all, we always have fun together! For example, I knew SpaceInvaders from Instagram, then we became friends on Facebook, then I pointed her to the Dutch Karma Swap group, which she joined, and now we finally met face-to-face! Before the digital age we may have never met each other. People who say that social media are shallow and not real probably never had this kind of joyful experience.
Snorrepot had prepared so much for us! The sitting room was completely reorganized to make sure that everybody had a good seat. She and her husband live in a gorgeous house at the old harbour street. It has nooks and crannies and breathes history – and it has been renovated so beautifully by them! The atmosphere was great. There were little side tables to put your drinks on. There were cookies and chocolates and cake… and of course, Bossche Bollen from Jan de Groot!
Everything was done so thoughtfully! Something I usually find hard to prepare for. I only think about the 'what', not that much about the 'how'. Well, during the party I start thinking about all the things I should have done differently 😉
But Snorrepot is great at this kind of thing!
I gave her her present, and yay, she liked it!
Sigh of relief.
The cats were also partaking in the party. Lillepoes was providing pretty background snoring noises, while Poekie walked around, checking if everybody was having a good time! Such well-behaved cats 🙂
Everybody was knitting or spinning by now. We were admiring each other's projects. Snorrepot was knitting very pretty stranded socks (out of "stupid Regia" in a beautiful shade of green – inside joke!).  SpaceInvaders was spinning, just like me and Kerstballetje. She had brought a Glasspin and a WWW Teacup at my request. Oh, that Teacup, it was so lovely, and a smooth spinner! I also liked the Glasspin (although it is a tad long and heavy). I brought two Malcolm Fielding spindles for her to try: a Pocket Tibetan and a Full Size Tibetan. Now she wanted one too… always glad to enable! And fun to share our love for beautiful and useful tools.
I spun on my Dyavol, and managed to fill her up. I'm really enjoying this spinning project, and taking my time with it. I have spun up more than half of the rolags now. During Christmas I did not really have that much time to spin, but now I'm back in the flow.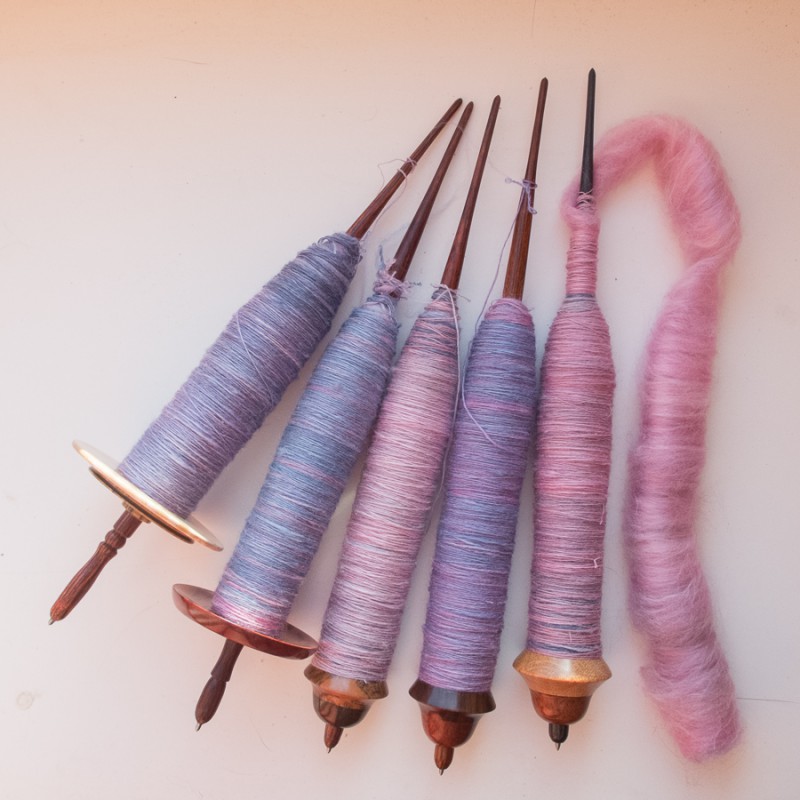 I love these soft, silvery pink colours! You can't really see it well in the photograph, but the fibre has a clear silky sheen, adding a silver note to the colours. I'm enjoying spinning every inch!
Most of us left the party at the same time, so we walked to the train station together. We admired all the beautiful houses at the harbour. The houses have so much character!
At the station we even ran into another knitter… she had already said on Ravelry that she would pass through Den Bosch, but we never expected to actually meet! We admired her little grandchild, and then we went to the train. It was such a nice day!