It's that time of the year again: Stephen West organized his fourth yearly Westknits Mystery KAL, appropriately using yarn in four colours! I have joined a previous MKAL, in which I knitted my Rockefeller, which I later knitted again in nicer colours and with some mods. I have worn that shawl the whole past winter, and was just about to get it back out of the cupboard when this new MKAL showed up.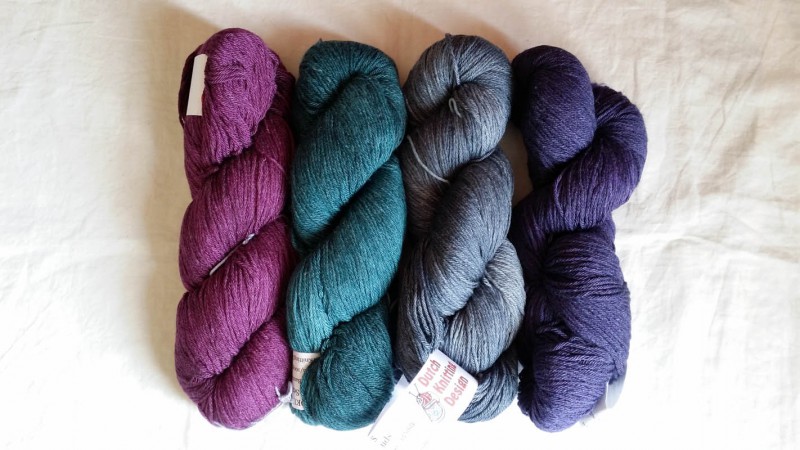 Last year's MKAL featured four colours as well, which had already purchased for it, but the design didn't really appeal to me, so I decided to keep them in my stash for now. This year I also waited a bit to see the first clue, and this time I wasn't disappointed: the asymmetrical wedges looked really cool and my colours seemed perfect for this knit. Stephen recommended colour A to be a contrast colour to the rest of the yarns, which in my case caused some trouble, since the four skeins have about the same tint – in black and white you hardly see the difference between them! So I decided to start knitting the beginning of the shawl in different combinations and see what would appeal to me.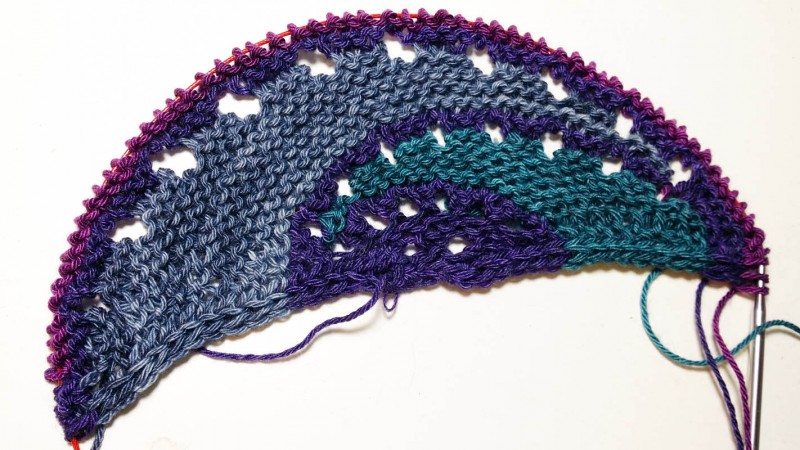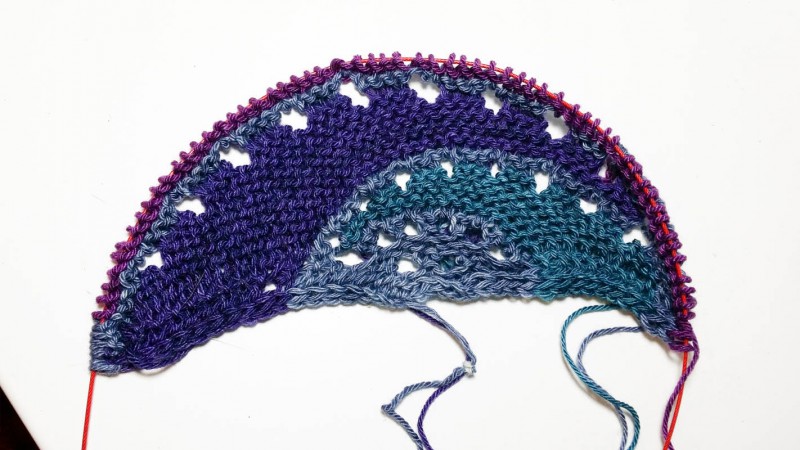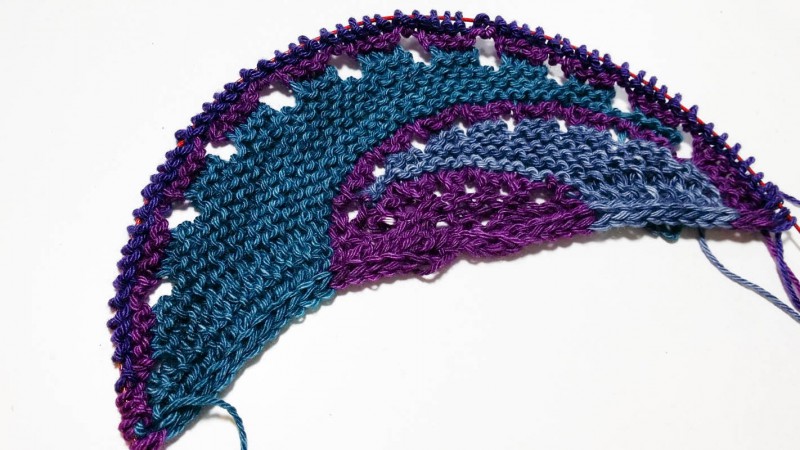 It was hard to choose. Both the first and last combination appealed to me, and in the end I decided to go for combination 1. Clue 1 looked really pretty!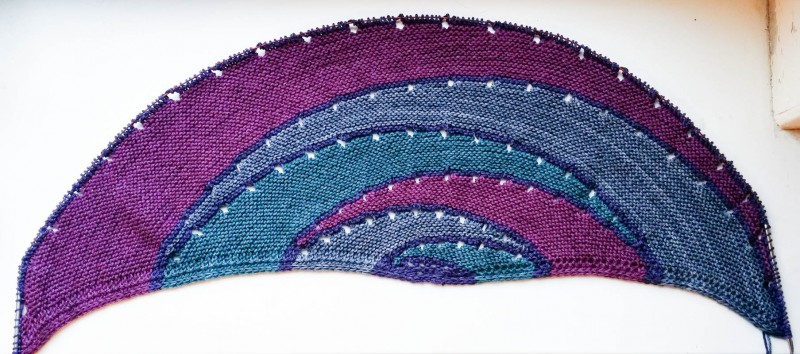 After clue 1, the shawl quickly became too large to show in its entirety while on the needles, so the next pictures are just of parts of the pattern. Clue 2 contained brioche and 'sassy slips' that turned out great. I did switch around the colours a bit, because I liked different combinations. I put grey in the foreground for the brioche because I thought it would disappear in the background, and green could stand its ground. For the sassy slips I decided to switch around pink and green to make the pink look like little flowers in a green field. I also went down from 4mm to 3,25mm needles for the brioche.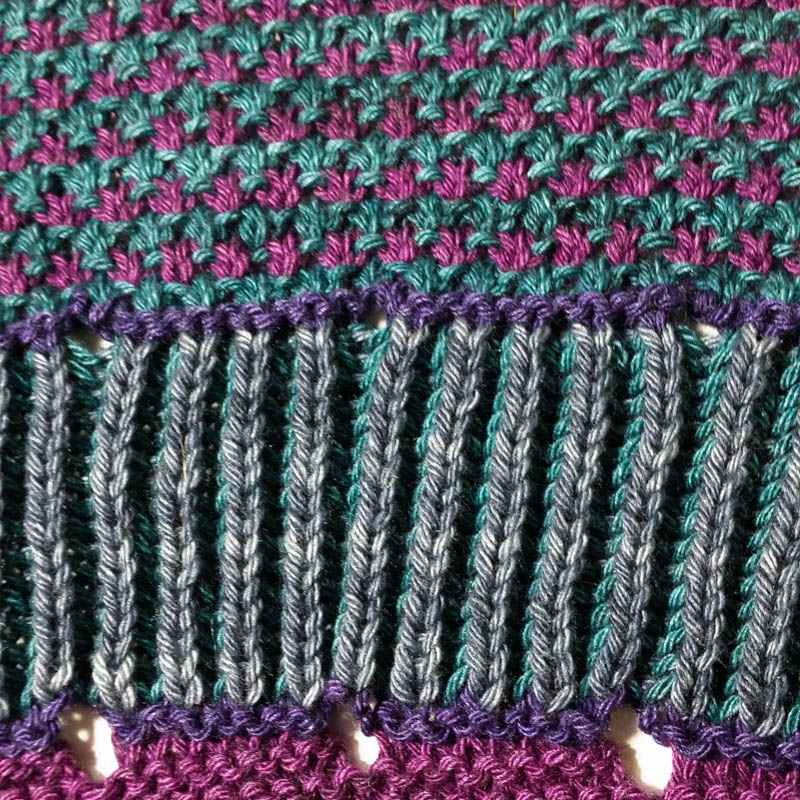 Clue 2 took quite some time because it had two sections. Clue 3 arrived and went much faster, even though the rows started getting quite long. The ribbing that Stephen used here looks interesting and it complements the brioche from an earlier section nicely.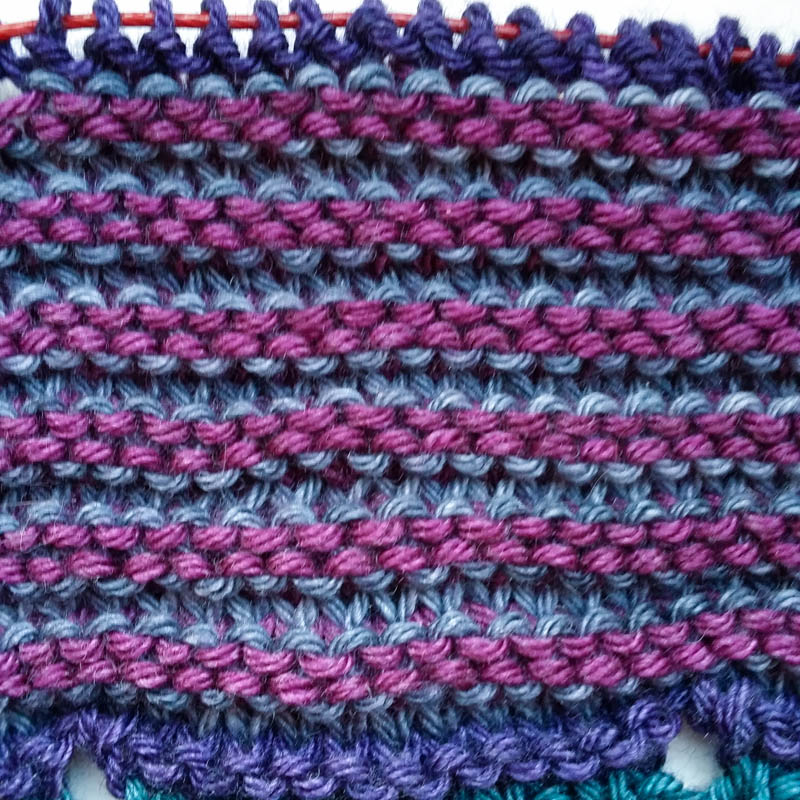 Unfortunately, in the middle of knitting clue 3, disaster struck: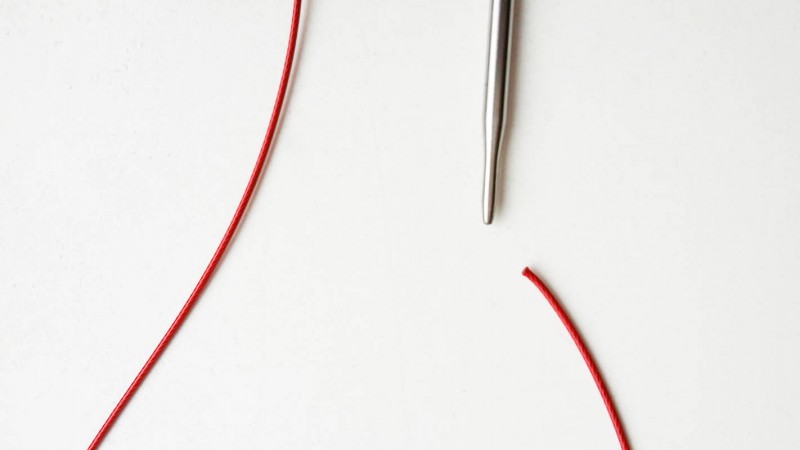 I only had a 60 cm needle left, and picked up the dropped stitches as well as I could. Knitting became a bit tedious because it was all cramped together on the needle, making the shawl feel quite have on my wrists.
Last Friday, clue 4 would come out. Before that, my new HiyaHiya needle arrived (phew!), so I could continue knitting in a more comfortable way. Clue 4 was just as "short" as clue 3, and contained chevrons – a nice way to break the round shapes of the shawl a bit and give it a definite ending. The shawl was finished with an icord bindoff. Yesterday night I finished and couldn't wait for better light or blocking to take a picture.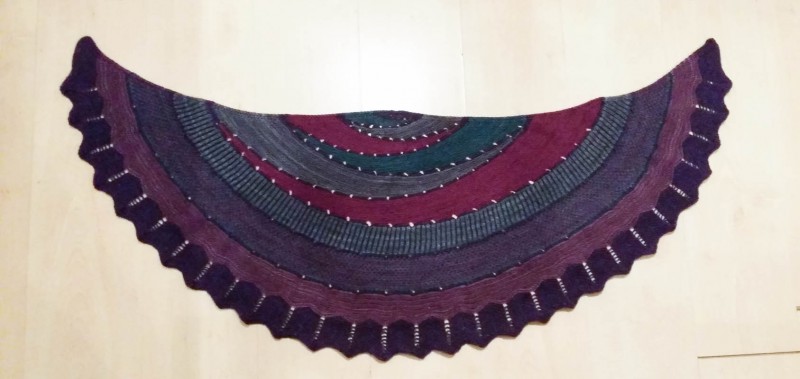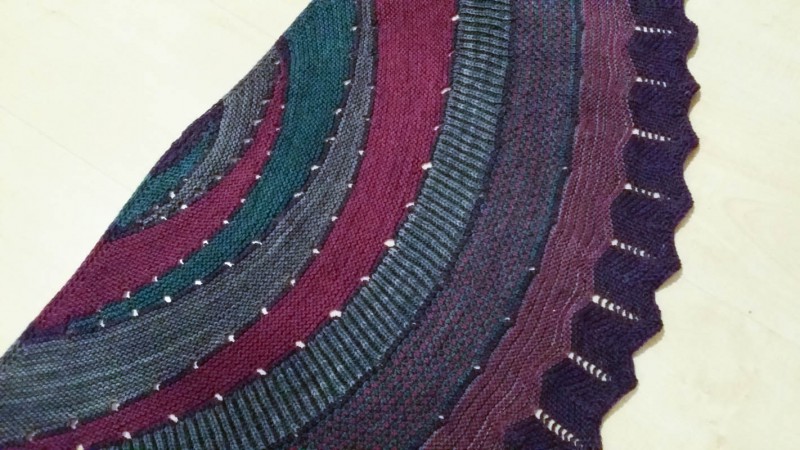 I was kind of doubting if I should block this shawl, because I really like the comfy texture of unblocked garter stitch. However, the chevrons didn't really pop, so I decided to soak the shawl and pin it on my blocking mats. It's huge! Really! Two meters wingspan or so! I blocked the chevrons really edgy, because I like to break the soft roundness of the shawl a bit.