Last weekend, a new event was launched: the Breidag & Haakdag. A small knitter's and crocheter's festival in Nieuwegein, in the center of the Netherlands. There are bigger meetings, like the Handwerkbeurs, but those include quilting, sewing and other crafts as well. They are also very, very big and busy.
Of course I planned going to the Breidagen, because I had never visited such an event before, and the buzz about it on Ravelry was really inspiring. There were going to be workshops in brioche, lace knitting, darning, fair isle knitting and more. The best of the Dutch yarn shops would be there. And lots and lots of Ravelers!
I never met a Raveler in real life before, so I was looking forward to that experience. I decided to visit both days, do two workshops, and talk to some special virtual friends in person. I also decided to go alone, because then I would be totally free to do what I want when I want to. That turned out to be a really good decision.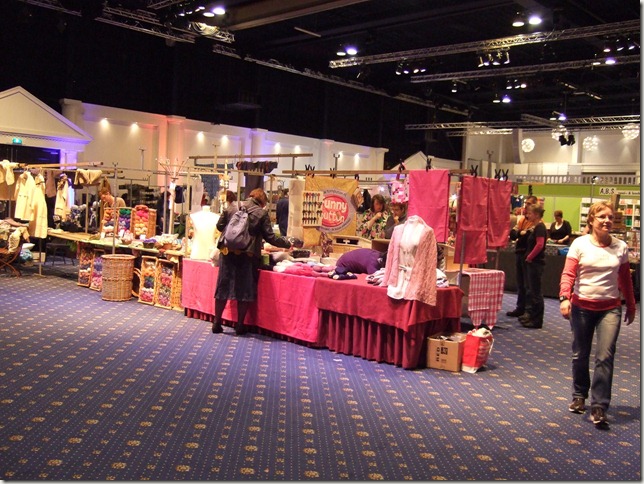 It was still quiet in the morning…
On Friday, I arrived a little before 10AM, and it was still rather quiet. Slowly, more people started arriving, and most of them were wearing Ravelry buttons. Interesting! I met some people I have wanted to meet for a long time, like Marianne, Anna, Hannah, Christa and others. And Merina Zwartehamel, of course. Part of the buzz in the days before the Breidag was the fact that an unknown person, Merina Zwartehamel, sent an email to almost all the people in some of the Dutch groups on Ravelry, that she would be there to show us some "black angora gold", to test whether knitters would like it. The secret meeting code would be to softly bleat to eachother…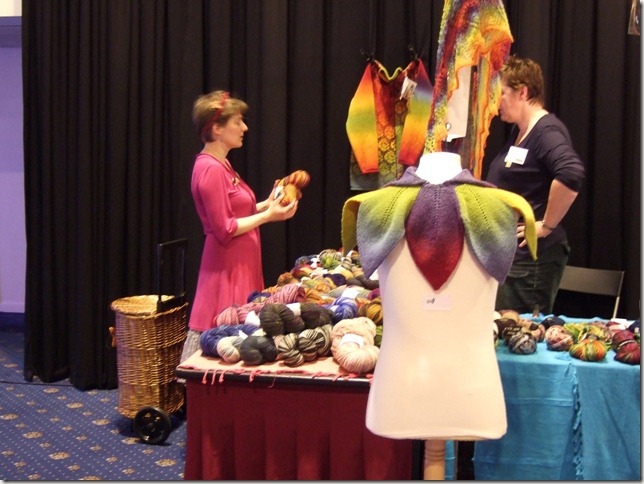 Look! It's Merina Zwartehamel!
This was top secret, so, naturally, everybody was talking about it. Who would it be? We all had our suspicions, which turned out to be correct. At noon, Anna presented everybody who bleated to her with some nice liquorice, which was very yummy, but not very knittable. We all had a good laugh about this brilliant April's fools joke!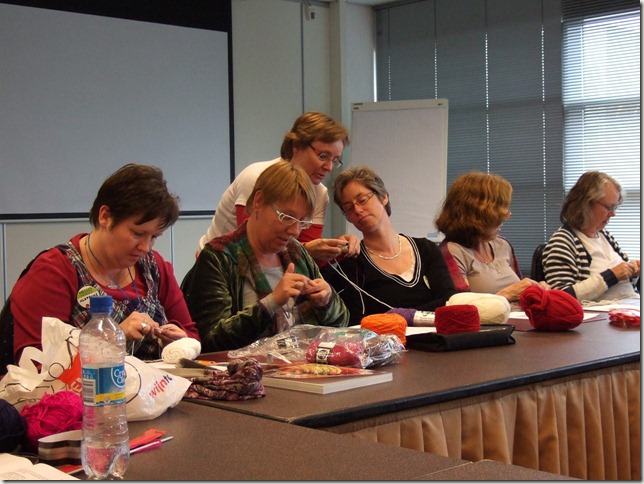 In the afternoon I went to the brioche workshop by the queen of brioche herself: Nancy Marchant. It was fun and the one person who was not on Ravelry was quickly and easily converted. Nancy was amazing, very relaxed and proficient, and she made it all seem simple to us, which truly is the art of teaching.
I went home with a b-e-a-utiful skein of dark red pure merino lace yarn (Karen Noe) and some small things. And Marianne gave me some blocking wires, which is great, since I'm so into lace at the moment! When I was almost leaving, I met Hannah again, who showed me a gorgeous dark blue skein of Madelinetosh Lace yarn, which was quite expensive, but oh, so pretty! I decided to think about it and perhaps buy it on Saturday…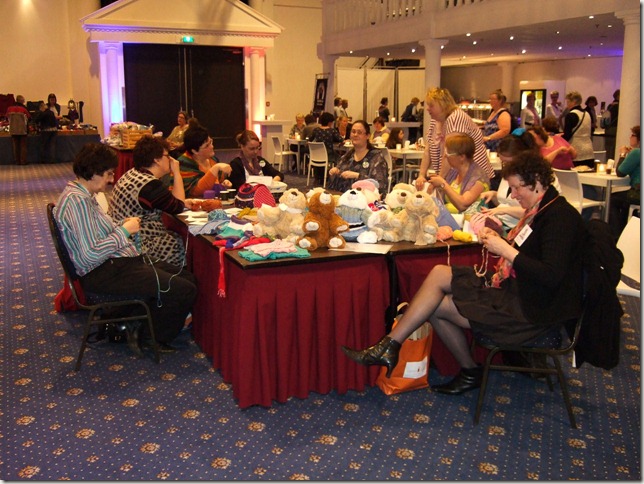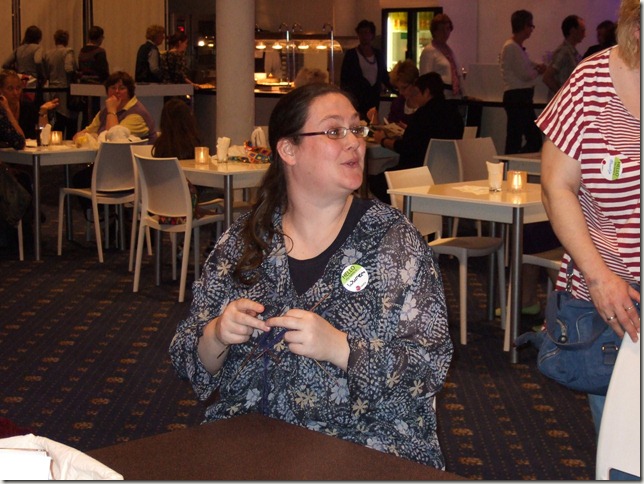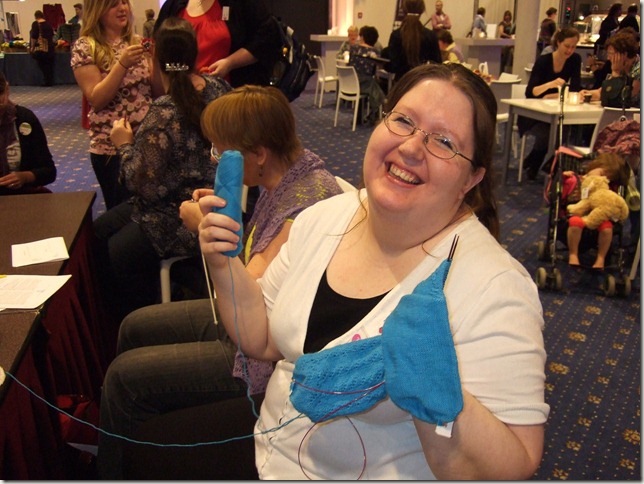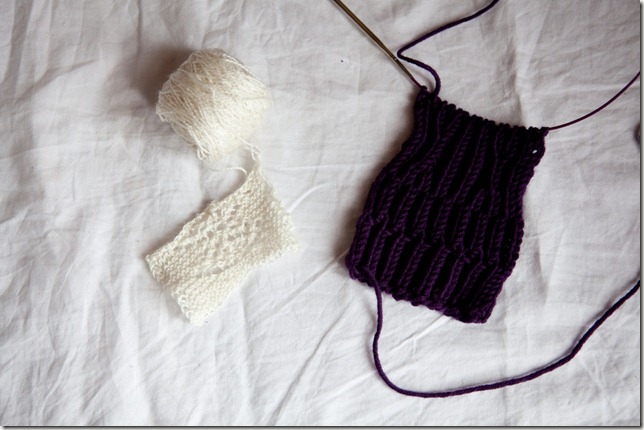 Sweet Ravelers, and my first true lace and brioche…
I was looking forward to returning on Saturday for some more social and yarny goodness. This time I was a bit later, at 11, and I had decided to buy the Tosh Lace after all. It's just soooooo gorgeous! And I have the perfect project for it in my mind (just have to design it…). I socialized some more, and then it was time for the True Lace workshop by Monique Boonstra. This was very inspiring indeed, and my love for lace knitting became even greater. She gave some handy tips (like using the Kruidvat hair elastics as stitch markers) and I managed to finish the little lace diamond without big problems. After the workshop I had another coffee outside on the terrace with Marianne, and then it was time to go home again… I'll be back next year for sure!!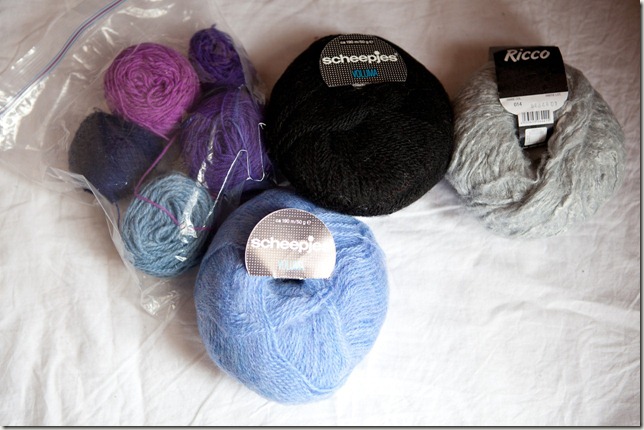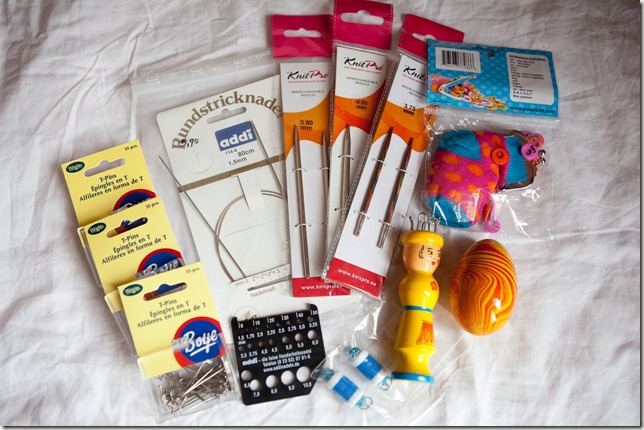 Loot from the Bollenbak… and the knitting notions I bought.